Makers of Fake Money Claim it is a Crime to Use Real Money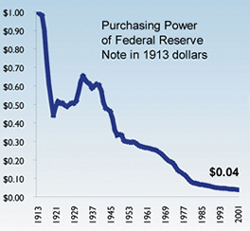 The fiat currency circulated by our government has lost 96% of its purchasing power in one life time. I can remember when bubble gum was 1 penny each. Now it is a nickel each. In terms of bubble gum, our currency has lost 80% of its purchasing power in my lifetime, and I am only in my 40's.
Our constituion says that no STATE shall coin money, nor shall they make any money legal tender (meaning you HAVE to accept it in trade) unless the money is of gold or silver. The Founders developed a strong dislike of unbacked paper currency, much like that which our government is now issuing. The Constitution says nothing about private groups being prohibited from coining money, which individuals can then use in trade of their own free will.
One group, the makers of Liberty Dollars, have done just that. They make coins containing silver, or give out certificates backed by silver sitting in a vault. Paul Harvey runs ads for them. There are millions of liberty dollars in circulation, and the
feds don't like it
. They claim the use of Liberty Dollars "is a crime", but don't get around to saying why it is a crime for people to barter using something of real value as a medium of exchange rather than the intrinsically worthless paper dollars that our government is filling the earth with.
If the government won't use an honest currency itself, you would think that the least it could do is let other people use an honest currency. But no, even that level of decency has departed from our ruling class in Washington.