My Friends at the AFA and Focus on the Family Need to Face the Facts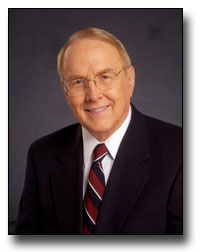 James Dobson, Founder of Focus on the Family
*******************
This is one of the hardest columns I have ever had to write. If I thought my private letters had gotten through, I doubt I would have done it.
Don Wildmon is the founder of the American Family Association. It is a fine Christian-effected group that I was a part of through their Arkansas Affiliate for many years. James Dobson is the founder of Focus on the Family. For many years Wildmon and Dobson have been friends. Wildmon has long been willing to use the influence of his network to effect civil government. For the longest time, Dobson stuck with family issues. As I have heard it told, with urgings from Wildmon, Dobson's conscience got to him when he saw how fast the culture was deteriorating, and he jumped into politics as well.
Dobson gave a Dan Gilgoff wide access to his organization so that the man could write a book on it. The result is "The Jesus Machine". I can tell by the title that the book will not be favorable to Dobson. But that is not my biggest worry. My biggest worry is that Wildmon's organization, One News Now, is seeing the whole journey through rose-colored glasses. Look at
the congratualtory tone they take in this article
toward the book. The article leads with talk about how important Focus on the Family has been to our "public policy successes". What successes would that be? We are on defense, and the defense is not going very well.
They give us quotes like, "the ministry, he says, has been instrumental in helping that bloc of faith-based voters achieve more in the past few years than at any time in history."
Are they kidding?
That is just a line from the left to make us into a bigger boogie man so that the irrational fear some have of AFA and FOF is raised to even wilder levels. AFA and FOF had better not believe it is a true evaluation of the political-social landscape. In my view, that would reflect
a dangerous lack of realism
with respect to where Christian voters are in this country. And they had better face the facts about that or they are going to lead us right off the cliff.
(continued- click SATURDAY below and scroll down for rest of article, or if sent straight here just scroll down)